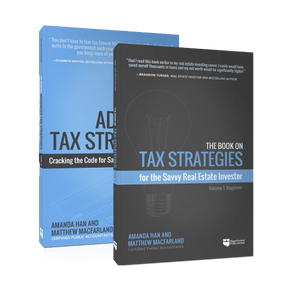 By
Amanda Han & Matt MacFarland
Tax Strategies Book Bundle
Buy both and save!
Written as a two-book set with new and advanced investors in mind, this package deal will be your one-stop guide to fine-tuning your tax strategy.
Free Bonus Content includes:
199A tax benefit cheat sheet
Outlines various types of real estate income and whether they qualify
Bonus Chapter: What Went Wrong?
Funny court cases on real estate professional status
Bonus video: 20 Real Estate Tax Myths Debunked
The authors cover the most common tax misconceptions and myths
Even more tax strategies
4 bonus PDFs that cover more tax strategies for real estate investors
FREE Basic Shipping
FREE Basic Shipping
Kindle compatible ebook files
One-click audiobook access
ULTIMATE Package = Physical book + Ebook + Audiobook
FREE Basic Shipping
FREE Exclusive Bonus Content
30-Day Satisfaction Guarantee
Choose your preferred format

Ultimate
Everything you need!
Two paperback books with free basic shipping
Two ebook downloads AND two audiobook downloads

ALL free bonus content

Paperbacks
For the traditionalist
Two paperback books with free basic shipping

ALL free bonus content

Ebooks
For Kindle and other devices
Two ebook downloads

ALL free bonus content

Audiobook
Audiobooks only available for purchase separately
Are you dreading tax season? Not sure how to maximize deductions for your real estate business? CPAs Amanda Han and Matthew MacFarland share the practical information you need to not only do your taxes this year but also to prepare an ongoing strategy that will make your next tax season much easier.


The Book on Advanced Tax Strategies
When it comes to taxes, it's not about how much money you make—but how much you actually keep. Are you tired of working hard all year to lose the largest chunk of that money to the IRS? Saving on taxes means more money for you, your family, and your real estate investments. Learning tax strategies could be the easiest money you ever make!

Standard economy shipping is always FREE, but you can upgrade if you'd like to receive your book faster. Shipping rates vary depending on location.
Purchases from the BiggerPockets Bookstore can only ship within the United States.
We're confident in the quality of our books. If you're not satisfied with your purchase, you can return your book for a full refund within 30 days.
For returns, refunds, or the status of your order, you can contact [email protected].
Customer Rating and Reviews
Tax Strategies Book Bundle
I have still never received my copy of the book. Please make that happen. My phone number is [****]
The Book on Tax Strategies
The book was very insightful. Gave excellent ideas as to different ways to save taxes and when it would be important. The story's of real life examples help visualize the real world. Highly recommend for all investors. Started "Advanced Tax Strategies" today.
Super informative tax primer
Ashley Han really lays out the foundation in this book for understanding all the ways RE can save on taxes and goes in depth into strategies. Also a decently quick read too. A must if you're getting started!
Tax Strategies Book Bundle
I found the books to be an easy read and full of helpful information. There are a good number of examples and it's written at just the right level - enough information that I need to know as a RE Investor, but not so much I could pass the CPA exam.