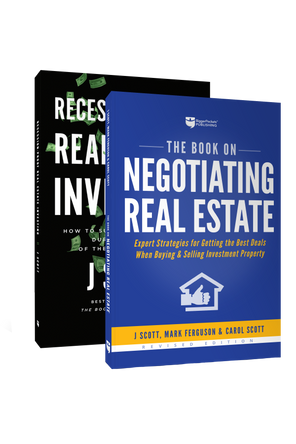 Dependable Deals Bundle
Buy both and save!
Get recession-proof real estate deals at any point in the housing market cycle with J Scott's expert negotiation tips and economic knowledge.
Free Bonus Content includes:
Economic Downturn Guide—"Recession Prep 101: Investing in Real Estate During a Financial Crisis"
Three recorded Q&As with J Scott
What Most People Get Wrong About Negotiation: A conversation with Brandon Turner and J Scott
How to Perform Online Research to Benefit Your Negotiations: A video tutorial with Carol Scott
FREE Basic Shipping
FREE Basic Shipping
Kindle compatible ebook files
One-click audiobook access
ULTIMATE Package = Physical book + Ebook + Audiobook
FREE Basic Shipping
FREE Exclusive Bonus Content
30-Day Satisfaction Guarantee
Choose your preferred format

Ultimate
Everything you need!
Two paperback books with free basic shipping
Two ebook downloads AND two audiobook downloads

ALL free bonus content

Paperbacks
For the traditionalist
Two paperback books with free basic shipping

ALL free bonus content

Ebooks
For Kindle and other devices
Two ebook downloads

ALL free bonus content

Audiobook
Audiobooks only available for purchase separately
Recession-Proof Real Estate Investing
In Recession-Proof Real Estate Investing, accomplished investor J Scott dives into the theory of economic cycles and the real-world strategies for harnessing them to your advantage. With clear instructions for every type of investor, this easy-to-follow guide will show you how to make money during all of the market's twists and turns—whether during an economic recession or at any other point in the economic cycle. You'll never look at your real estate business the same way again!
The Book on Negotiating Real Estate
Three expert investors and bestselling authors come together to show you how to get the most deals—and the best deals—on all of your investment property. With more than 1,000 successful real estate deals, J Scott, Mark Ferguson, and Carol Scott combine the science of negotiation with real-world experience to dive into all aspects of the real estate negotiation process. From the first interaction with a buyer or seller to last-minute concessions at closing, you'll learn everything you need to reach optimal agreements every time.
The psychology of building relationships to gain negotiating leverage
How to uncover information to tip negotiating outcomes in your favor
Strategies for defining optimal offers, counter-offers, and using concessions to get your deal to the finish line
How to overcome objections and renegotiate issues that arise from contract contingencies
The four major phases of the economic cycle: Expansion, Peak, Recession, and Recovery
How to know when economic shifts are likely to occur and strategies to withstand those impending changes
The positive and negative impacts of each phase on different real estate investing strategies
Multiple ways to modify your investing tactics—not only to survive economic downturn, but to also thrive!
Standard economy shipping is always FREE, but you can upgrade if you'd like to receive your book faster. Shipping rates vary depending on location.
Purchases from the BiggerPockets Bookstore can only ship within the United States.
We're confident in the quality of our books. If you're not satisfied with your purchase, you can return your book for a full refund within 30 days.
For returns, refunds, or the status of your order, you can contact [email protected].
Customer Rating and Reviews