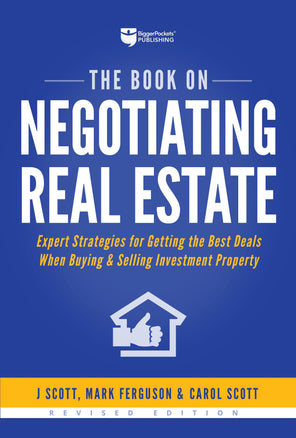 Authors
The Book on Negotiating Real Estate
Learn how to close more real estate deals and make more money in the process, all with the power of negotiation.

Every purchase comes with free bonus content:
What Most People Get Wrong About Negotiation
A conversation with Brandon Turner and J Scott
How to Perform Online Research to Benefit Your Negotiations
A video tutorial with Carol Scott
Quick reference guide PDF
A cheat sheet for the stories and tips included in the book
Two Q&A Webinar Recordings
One with Mark Ferguson and another with J & Carol Scott
Free Basic Shipping
Free Bonus Content
30-Day Guarantee
Choose your preferred format

Ultimate
Everything you need!
Paperback book with free basic shipping
Ebook version + One-click audiobook access

ALL free bonus content

Paperback
For the traditionalist
Paperback book with free basic shipping

ALL free bonus content

Ebook
For Kindle and other devices
Ebook version

ALL free bonus content

Audiobook
Connect to your favorite app and listen on the go!
One-click link to connect Apple Podcasts and other platforms

ALL free bonus content
"This is the only book you'll need to learn the strategies and tactics necessary to ensure you get the BEST deals—and the MOST deals—on your investment property, every time!"
– Joe Fairless, Cofounder of Ashcroft Capital
Three expert investors and bestselling authors come together to show you how to get the most deals—and the best deals—on all of your investment property. With more than 1,000 successful real estate deals, J Scott, Mark Ferguson, and Carol Scott combine the science of negotiation with real-world experience to dive into all aspects of the real estate negotiation process. From the first interaction with a buyer or seller to last-minute concessions at closing, you'll learn everything you need to reach optimal agreements every time.
Along with a step-by-step guide to the negotiation process, this book also contains dozens of true-life stories highlighting how strong negotiation can result in more and better deals. Real dialogue examples will teach you what to say and how to say it, effectively strengthening your ability to close profitable transactions. Whether you are a real estate investor, agent, beginner, or veteran, you can use these expert strategies to create dynamic results!
The psychology of building relationships to gain negotiating leverage
How to uncover information to tip negotiating outcomes in your favor
Strategies for defining optimal offers, counter-offers, and using concessions to get your deal to the finish line
How to overcome objections and renegotiate issues that arise from contract contingencies
Specific tips for making/receiving offers through agents and buying properties from banks/HUD
And much more!
Standard economy shipping is always FREE, but you can upgrade if you'd like to receive your book faster. Shipping rates vary depending on location.
Purchases from the BiggerPockets Bookstore can only ship within the United States.
We're confident in the quality of our books. If you're not satisfied with your purchase, you can return your book for a full refund within 30 days.
For returns, refunds, or the status of your order, you can contact [email protected].
Customer Rating and Reviews
The Book on Negotiating Real Estate
The Book on Negotiating Real Estate
To the point
Excellent primer on not only real estate but all negotiations as well.
Excellent Read
Great book that I recommend for all agents to read. So much good information that I will take the time to go over the high points again to implement into my negotiations. Big Thanks to the authors for taking the time and effort to share your knowledge with us.
We appreciate you.