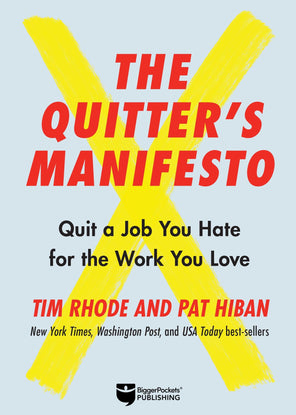 Authors
The Quitter's Manifesto
An inspiring guide to leaving a job that doesn't fulfill you in order to find work that does.

Free bonus content includes:
The Soul-Sucking Audit
Take this short assessment to determine if it's time to make a big shift based on how much enjoyment you get from your current job.
Quitter's Checklist
Additional things you can use to prepare to take the big leap with more stability.
Inspirational Quitter Interviews
What got these quitters moving, and how did their lives change from quitting?
FREE Basic Shipping
FREE Basic Shipping
Kindle compatible ebook files
One-click audiobook access
ULTIMATE Package = Physical book + Ebook + Audiobook
FREE Basic Shipping
FREE Exclusive Bonus Content
30-Day Satisfaction Guarantee
Choose your preferred format

Ultimate
Everything you need!
Hardcover book with free basic shipping
Ebook version + One-click audiobook access

ALL free bonus content

Paperback
For the traditionalist
Hardcover book with free basic shipping

ALL free bonus content

Ebook
For Kindle and other devices
Ebook version

ALL free bonus content

Audiobook
Connect to your favorite app and listen on the go!
One-click link to connect Apple Podcasts and other platforms

ALL free bonus content
"The Quitter's Manifesto empowers workers to choose where and how they work with its sage advice for quitting their current jobs."
—Foreword Reviews
Quitting a job with a steady paycheck and benefits is tough—you have to write a letter of resignation, find new work or start a business, and dust off the resume. Still, if this was all that was stopping you from making the leap, you probably would have leapt long ago.
Though quitting is about action, it's far more about why you aren't taking action. If you've felt trapped in your job but can't quite seem to take the next step, this book will give you the game plan you need to deal with uncertainty. The Quitter's Manifesto was written by two successful Quitters and features the inspiring stories of many more, and they will help you create a plan that will make leaving a job seem less daunting.
Easy to read, simple to follow, The Quitter's Manifesto is a call to freedom for anyone who's waited too long to make a change. The work you love is out there—and your new job is not to give up on yourself.
Find the root cause of why you're stuck and what to do about it
Develop a safer, more gradual approach to transitioning to work that matters
Build a team to help you find opportunities and navigate difficulties
Dial in your financial situation to make quitting less risky
Failure-proof your mind for the ups and downs of change
Standard economy shipping is always FREE, but you can upgrade if you'd like to receive your book faster. Shipping rates vary depending on location.
Purchases from the BiggerPockets Bookstore can only ship within the United States.
We're confident in the quality of our books. If you're not satisfied with your purchase, you can return your book for a full refund within 30 days.
For returns, refunds, or the status of your order, you can contact [email protected].
Customer Rating and Reviews
The Quitter's Manifesto: Quit a Job You Hate for the Work You Love
The Quitter's Manifesto: Quit a Job You Hate for the Work You Love
Great read!
I purchased this books for my husband and he really enjoyed it. It gave practical information and encouragement to get out of the rat race and enjoy life while also providing for your family!
Great Read
Great formulated way to help you keep quitting!
Great Read for Tactics and Mindset
This is a relatively small book that packs a big punch. Reading the book and completing the worksheets has really helped bring some clarity to my current job situation and a clear path towards the work I love.