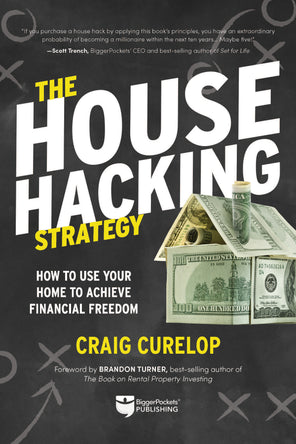 The House Hacking Strategy
The average American household spends close to 33% of their income on housing expenses. With house hacking, you can save that money or even earn a profit!

Every purchase comes with free bonus content:
House hacking deal analysis calculator and a video tutorial on how to use it
The Founder of House Hacking: An interview with Brandon Turner
Bonus Chapter: Saving for Your First House Hack
Bonus Chapter: My Biggest Real Estate Mistake
Author Q&A webinar recording
Three house hack property walkthrough videos
FREE Basic Shipping
FREE Basic Shipping
Kindle compatible ebook files
One-click audiobook access
ULTIMATE Package = Physical book + Ebook + Audiobook
FREE Basic Shipping
FREE Exclusive Bonus Content
30-Day Satisfaction Guarantee
Choose your preferred format

Ultimate
Everything you need!
Paperback book with free basic shipping
Ebook version + One-click audiobook access

ALL free bonus content

Paperback
For the traditionalist
Paperback book with free basic shipping

ALL free bonus content

Ebook
For Kindle and other devices
Ebook version

ALL free bonus content

Audiobook
Connect to your favorite app and listen on the go!
One-click link to connect Apple Podcasts and other platforms

ALL free bonus content
"House hacking is simply the best tool available to middle-class Americans that want to drastically improve their financial futures... [and] Craig just wrote THE book on this subject."
―Scott Trench, CEO of BiggerPockets
If you live in an expensive housing market or want to start investing in real estate, house hacking is a time-tested wealth-building tool and the quickest way to become a real estate investor. By renting out your primary residence, you can save thousands of dollars in monthly expenses, build tens of thousands of dollars in equity each year, and reach financial independence in record time.
From finding the perfect property to mastering the intricacies of funding, serial house hacker Craig Curelop uncovers how you can start building your real estate portfolio with this beloved method used by the most successful investors. Kickstart your real estate journey so you can "hack" your way to financial freedom!
Understand how house hacking will help you build wealth toward early retirement
Jumpstart your real estate investing journey, even with low income or minimal savings
Choose a house hacking strategy customizable to your lifestyle and needs
Find your ideal house hack property, even in a competitive or expensive market
Learn from the triumphs and mishaps of experienced house hackers in every market
Understand how to successfully manage your property as a primary residence
Set the foundations to scale your real estate business from one house hack to the portfolio of your dreams
Standard economy shipping is always FREE, but you can upgrade if you'd like to receive your book faster. Shipping rates vary depending on location.
Purchases from the BiggerPockets Bookstore can only ship within the United States.
We're confident in the quality of our books. If you're not satisfied with your purchase, you can return your book for a full refund within 30 days.
For returns, refunds, or the status of your order, you can contact [email protected].
Customer Rating and Reviews
The House Hacking Strategy
low ROI for my investment
Felt like i could have read a few blog articles in ~2 hours and would have learned all the same things i learned in the 8+ hours i spent listening to my audiobook on househacking.
So much Information
I really enjoy the book and take notes as I go. I really learn a lot and can't wait each time to share the knowledge with my husband. It's an easy read. And even though some specific case senators in the book don't apply to you, you still learn a lot. I'm glad I was able to support the community by buying the book on BP and not Amazon.
The house hacking strategy
I really enjoy reading this book.I learned a lot of new concepts about FHA loans which I did not have idea about it. I really recommend reading this book if you want to start your real estate journey house hacking. A lot of useful information and concepts.
Great Book
Great book for those interested in starting their real estate journey!