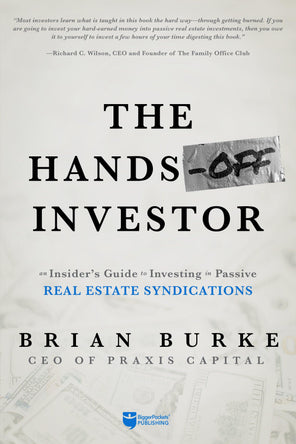 The Hands-Off Investor
Finding an experienced syndication sponsor matters now more than ever. By learning to select the right sponsors and properties, you'll find the best deals and mitigate risk!

Every purchase comes with free bonus content:

72 questions to ask a potential sponsor
Bonus Chapter: "The Backstory"
Author Q&A webinar recording and slide deck
Video Interview with Jeremy Roll
Video Interview with Richard Wilson
FREE Basic Shipping
FREE Basic Shipping
Kindle compatible ebook files
One-click audiobook access
ULTIMATE Package = Physical book + Ebook + Audiobook
FREE Basic Shipping
FREE Exclusive Bonus Content
30-Day Satisfaction Guarantee
Choose your preferred format

Ultimate
Everything you need!
Paperback book with free basic shipping
Ebook version + One-click audiobook access

ALL free bonus content

Paperback
For the traditionalist
Paperback book with free basic shipping

ALL free bonus content

Ebook
For Kindle and other devices
Ebook version

ALL free bonus content

Audiobook
Connect to your favorite app and listen on the go!
One-click link to connect Apple Podcasts and other platforms

ALL free bonus content
"I wish this book had been around ten years ago when I started syndicating. It would have saved me a lot of struggle! [This book] will no doubt help thousands of passive investors make better and more informed decisions on where to invest their hard-earned money."
―Kathy Fettke, Co-CEO of Real Wealth Network and host of The Real Wealth Show
Want to invest in real estate but don't have the time? No matter your level of experience, real estate syndications provide an avenue to invest in real estate without tenants, toilets, or trash—and this comprehensive guide will teach you how to invest in these opportunities the right way.
Syndications are like the stock mutual funds of the real estate world—multiple investors passively invest into a fund, while a manager is responsible for picking the real estate and managing the portfolio. Author Brian Burke, a syndications insider with decades of experience in forming and managing syndication funds, will show you how to evaluate sponsors, opportunities, and offerings so you can pick the right sponsors and achieve the highest odds of a favorable outcome.
The practical skills you need to understand income, cash flow projections, and investor waterfalls
How to find syndication investment sponsors and how to evaluate them for the best possible opportunities
Red flags to avoid and tricks that syndication sponsors don't want you to know
The biggest and most common underwriting mistakes that sponsors make
How various debt options affect risk and return
Typical sponsor fees and profit splits
The tax implications of syndication investments
How to measure alignment of interest, judge performance projections, and more!
Standard economy shipping is always FREE, but you can upgrade if you'd like to receive your book faster. Shipping rates vary depending on location.
Purchases from the BiggerPockets Bookstore can only ship within the United States.
We're confident in the quality of our books. If you're not satisfied with your purchase, you can return your book for a full refund within 30 days.
For returns, refunds, or the status of your order, you can contact [email protected].
Customer Rating and Reviews
The Hands-Off Investor
The book is very in-depth yet is understandable to a beginner like myself. There is a lot of information contained in it. Like similar books, the topic is kind of dry so it's a slow read but I'm learning a lot about syndication.
Excellent
I have finished yet anything about analyzing multi-family property in syndications. There's no other book like this
Syndication Essentials
This book does a good job of reviewing what goes into a syndication deal from the sponsor and the investor's side of things. I recommend it to anyone looking to gain more valuable insight into syndications.