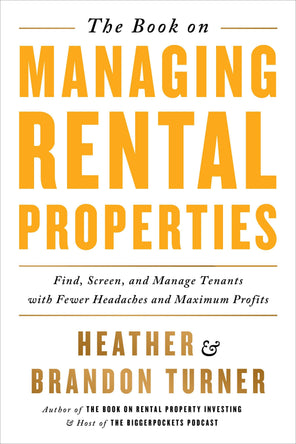 The Book on Managing Rental Properties
No matter how great you are at finding good rental property deals, you could lose everything if you don't manage your properties correctly!

Every purchase comes with free bonus content:

34 downloadable landlord forms
Including a move-out survey, notice to vacate, maintenance request form, and more!
Tenant screening flowchart
To help you sort out the tenant screening process
Rental property expense tracking spreadsheet
To keep on top of your rental property income and expenses
FREE Basic Shipping
FREE Basic Shipping
Kindle compatible ebook files
One-click audiobook access
ULTIMATE Package = Physical book + Ebook + Audiobook
FREE Basic Shipping
FREE Exclusive Bonus Content
30-Day Satisfaction Guarantee
Choose your preferred format

Ultimate
Everything you need!
Paperback book with free basic shipping
Ebook version + One-click audiobook access

ALL free bonus content

Paperback
For the traditionalist
Paperback book with free basic shipping

ALL free bonus content

Ebook
For Kindle and other devices
Ebook version

ALL free bonus content

Audiobook
Connect to your favorite app and listen on the go!
One-click link to connect Apple Podcasts and other platforms

ALL free bonus content
More than 130,000 books sold!
Being a landlord doesn't have to mean middle-of-the-night phone calls, costly evictions, or daily frustrations with ungrateful tenants. Being a landlord can be fun—but only if you do it right.
That's why Brandon and Heather Turner wrote this comprehensive book that will change the way you think about being a landlord. Written with both new and experienced landlords in mind, The Book on Managing Rental Properties takes you on an insider tour of the Turners' management business, so you can discover exactly how they've been able to maximize their profit, minimize their stress, and have a blast doing it!
The subtle mindset shift that will increase your chance at success one hundred times over
Low-cost strategies to attract the best tenants who won't rip you off
Seven types of tenants you should never rent to
Nineteen provisions that your rental lease should include in order to protect yourself
Practical tips to assure your tenant pays on time and stays long-term
How to take the pain and stress out of your bookkeeping and taxes
And much more!
Standard economy shipping is always FREE, but you can upgrade if you'd like to receive your book faster. Shipping rates vary depending on location.
Purchases from the BiggerPockets Bookstore can only ship within the United States.
We're confident in the quality of our books. If you're not satisfied with your purchase, you can return your book for a full refund within 30 days.
For returns, refunds, or the status of your order, you can contact [email protected].
Customer Rating and Reviews
I really enjoyed the book. It was very informative for new beginners starting out in real estate investing!
I'm on chapter 7 at this point. Great information. I'm highlighting a lot! Hoping there is information or a check list on how to proceed once you find a property with a tenant that is staying.
Managing rental properties
I was only able to download the book but unable to access it afterwards due to computer glitch. But what I did read was excellent.
If You Want To Skip Years Of Reinventing The Wheel - This Book Is For You
Tony Robbins talks about the unlimited power in modeling and learning from others. The Turners have been there and done rentals way longer than most people could hope to do and have done it successfully.
There is no replacement for hard work, but there is a replacement for skipping years of experience and this book is that. Starting at a solid foundation allows you to make mistakes and learn from them without risking it all to do so.
A must for all rental investors.
Detailed and Specific Guidance
This book has just about everything you can think of and more when it comes to setting up a property management business. It is packed with useful and actionable advice. I highly recommend reading it if you plan to self-manage any rental properties, or even just want to know what to look for when outsourcing property management.