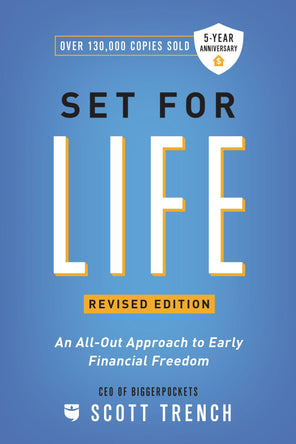 Set for Life, Revised Edition
Young professionals can retire early from their nine-to-five and reach financial freedom with the actionable advice in this personal finance best-seller.
Every purchase comes with free bonus content:
Real Estate Readiness Checklist
Make sure you're in the best possible position to invest.
Rent vs. Buy vs. House Hack Calculator
See the net worth impact of each option.
Download of daily, weekly, quarterly, and annual logs
To set goals and track your progress to financial freedom.
Bonus 25-page ebook by Scott Trench
Six Steps to Eliminating Debt & Repairing Credit
Four audio interviews with personal finance experts
2.5 hours of content, including an interview with Erin Lowry, author of Broke Millennial
FREE Basic Shipping
FREE Basic Shipping
Kindle compatible ebook files
One-click audiobook access
ULTIMATE Package = Physical book + Ebook + Audiobook
FREE Basic Shipping
FREE Exclusive Bonus Content
30-Day Satisfaction Guarantee
Choose your preferred format

Ultimate
Everything you need!
Paperback book with free basic shipping
Ebook version + One-click audiobook access

ALL free bonus content

Paperback
For the traditionalist
Paperback book with free basic shipping

ALL free bonus content

Ebook
For Kindle and other devices
Ebook version

ALL free bonus content

Audiobook
Connect to your favorite app and listen on the go!
One-click link to connect Apple Podcasts and other platforms

ALL free bonus content
"It's not often a book is written that could completely change the mindset of a generation… but I believe Scott has written that book."
—
Brandon Turner
, best-selling author of 
The Book on Rental Property Investing
Building wealth is always possible, even while working full-time, earning a median income, and paying off debt. By layering philosophy with practical knowledge,
Set for Lif
e gives people in their twenties and thirties an action plan to conquer their financial goals early in life. With more than 140,000 copies sold, this anniversary edition gets a refresh with new content, updated numbers, and even more valuable tips and tricks learned over the last five years.
Scott Trench—real estate investor, co-host of the
BiggerPockets Money Podcast
, and CEO of BiggerPockets—demonstrates how to accumulate a lifetime of wealth over a short time. Even starting with zero savings, you can go from a five-figure income to six figures, from an active job to passive income, then finally to the ultimate goal of financial independence.
Set yourself up for life as early as possible, and enjoy life on your terms!
Save more income (50+ percent of it) while still having fun
Double or triple your income in 3–5 years
Track your financial progress in order to achieve the greatest results
Build frugal and efficient habits to make the most of your lifestyle
Secure "real" assets and avoid "false" ones that destroy wealth
Use real estate and stock investing to generate passive income
And much more!
Standard economy shipping is always FREE, but you can upgrade if you'd like to receive your book faster. Shipping rates vary depending on location.
Purchases from the BiggerPockets Bookstore can only ship within the United States.
We're confident in the quality of our books. If you're not satisfied with your purchase, you can return your book for a full refund within 30 days.
For returns, refunds, or the status of your order, you can contact [email protected].
Customer Rating and Reviews
Easy and great read!
I've been wanting this book for a while after hearing about it on Bigger Pockets. It is an easy read for anyone to follow. I enjoyed reading from start to finish.
Set for Life, Revised Edition
Good book!
Easy to read and very practical!!!
Great overall guidance and perspective on money
Even though I am mostly aware of the FI mentality and strategies, this book was still a great read to help solidify what I knew and also still got me thinking about other things in my life I hadn't considered. Someone with little awareness of money management would definitely benefit reading this. The path is not easy but this at least gives you great direction on financial independence, even when you are starting with very little.
Set for Life
Excellent read! I enjoyed the layout of this plan that guides you from the very first step of saving, through purchase! Thank you!
Best book to gift
This book perfectly summarizes all of the important concepts of what Bigger Pockets stands for. I have bought a few copies to give to friends so they understand what I mean when I blabber about real estate investing and financial freedom. Scott does an amazing job to explaining the concepts so someone with no knowledge can easily understand. 10/10