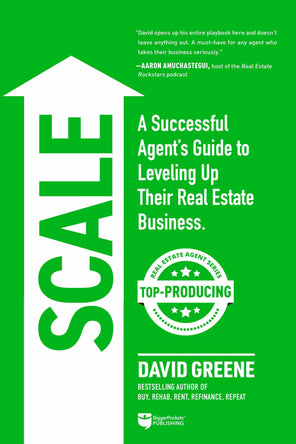 SCALE: A Successful Agent's Guide
The third and final book in the Top-Producing Real Estate Agent series provides an in-depth look at how to turn a real estate agent job into a streamlined business that gives you the freedom to work when you want.
Every purchase comes with free bonus content:
Multiple agent checklists to help your business run smoothly—for pre-listing, pending listings, and active listings, and open houses
A presentation slide deck to use when meeting potential buyers
Examples of a 8x8 campaign and 33-touch campaign
Bonus Video: All About the Sales Funnel (and How It's Used)
Bonus Video: Common Problems with Sales Funnel Tools
FREE Basic Shipping
FREE Basic Shipping
Kindle compatible ebook files
One-click audiobook access
ULTIMATE Package = Physical book + Ebook + Audiobook
FREE Basic Shipping
FREE Exclusive Bonus Content
30-Day Satisfaction Guarantee
Choose your preferred format

Ultimate
Everything you need!
Paperback book with free basic shipping
Ebook version + One-click audiobook access

ALL free bonus content

Paperback
For the traditionalist
Paperback book with free basic shipping

ALL free bonus content

Ebook
For Kindle and other devices
Ebook version

ALL free bonus content

Audiobook
Connect to your favorite app and listen on the go!
One-click link to connect Apple Podcasts and other platforms

ALL free bonus content
The dream of every real estate agent is to make great money with flexible hours—so why does it often feel like a nightmare once you hit top-producer status?
Many real estate agents hit their stride only to realize that they became a slave to the business they worked so hard to build, but it doesn't have to be this way. You can run an extremely profitable real estate business that is still highly enjoyable—you just need to understand the structure, system, and sequence of building a rock-solid team.
SCALE, the third book in the Top-Producing Real Estate Agent series, provides an in-depth look at how to turn a job into a business that gives you the freedom to work when you want.
In this book, best-selling author David Greene shows exactly how he sold more than $200 million in one year with just five agents and a handful of administrators. SCALE holds the secrets to putting the power back in your own hands—so you can live life on your terms while ensuring every client gets treated like gold!
Overcome common fears and objections while moving from single agent to team lead
Grow sales, increase escrows, and achieve closings from anywhere in the world
Create a foundation of clients to ensure a stream of future buyers and sellers
Hire, train, and manage staff with an organization chart built for delegating
Establish the leadership qualities you need to draw and develop the right talent
Create opportunities for new agents to work their way into experienced roles
Build culture, cohesiveness, and buy-in from those on your team
Amplify your business to have a presence in multiple geographic areas
Create a framework of systems that can be copied and repeated
Grow a business without limits!
Standard economy shipping is always FREE, but you can upgrade if you'd like to receive your book faster. Shipping rates vary depending on location.
Purchases from the BiggerPockets Bookstore can only ship within the United States.
We're confident in the quality of our books. If you're not satisfied with your purchase, you can return your book for a full refund within 30 days.
For returns, refunds, or the status of your order, you can contact [email protected].
Customer Rating and Reviews
Scale
This book offers everything needed to help successful agents transition their business from "Me" to "We". Very thorough.
Every Agent Needs To Read This Book
There are few books available for today's real estate agents that are nearly as valuable as David Greene's books in the "Sold" series. This book has everything an agent in today's market needs to actually scale their business, become a skilled agent and a leader. This book packs in sales techniques, practical applications, lead generation, leadership skills, tips on managing a team, and so much more. I highly recommend it to anyone who wants to be serious about becoming a top producing real estate agent and last for the long term in the industry.