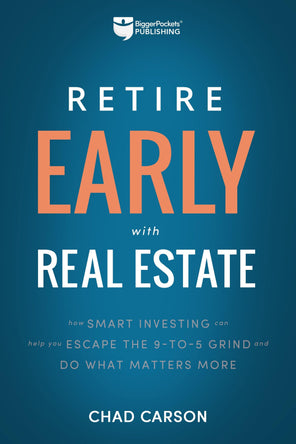 Retire Early with Real Estate
Tried-and-true real estate strategies to help you escape the 9-to-5 work grind, retire early, and do more with your life!

Every purchase comes with free bonus content:
How Many Properties Do You Need to Retire?
Author webinar replay
Retire Early One House at a Time
Video interview with John Schaub
How to Build a Retirement Plan Using Real Estate
Video interview With Erion Shehaj
Long-Distance Retirement Rentals Using No Debt
Video interview with Rich Carey
How to Retire in Your Thirties With Simple Buy & Hold Rentals
Video interview with Paula Pant
Retire Early AND Make a Social Impact With Low-Priced Rentals
Video interview with Lisa Phillips
FREE Basic Shipping
FREE Basic Shipping
Kindle compatible ebook files
One-click audiobook access
ULTIMATE Package = Physical book + Ebook + Audiobook
FREE Basic Shipping
FREE Exclusive Bonus Content
30-Day Satisfaction Guarantee
Choose your preferred format

Ultimate
Everything you need!
Paperback book with free basic shipping
Ebook version + One-click audiobook access

ALL free bonus content

Paperback
For the traditionalist
Paperback book with free basic shipping

ALL free bonus content

Ebook
For Kindle and other devices
Ebook version

ALL free bonus content

Audiobook
Connect to your favorite app and listen on the go!
One-click link to connect Apple Podcasts and other platforms

ALL free bonus content
"Clear, actionable, easy-to-understand guide to real estate investing with fascinating case studies of ordinary people who have reached financial independence at an early age."
—Paula Pant, Founder of AffordAnything and the Afford Anything Podcast
Are you stuck in the rut of a 9-to-5 job? Would you like to do more with your life than just work to pay the bills?
Retire Early With Real Estate provides practical, proven methods to quickly and safely build wealth using the time-tested vehicle of real estate rentals. Experienced real estate investor and early retiree, Chad Carson, shares his tried-and-true investment strategies to create enough passive income to retire at 37 years old.
Packed with specific strategies, tips, and techniques you may have never learned before, this book will help you forge a new path toward your retirement. Learn from more than twenty real estate investors and early retirees profiled in this book—retiring early is possible with a step-by-step strategy at hand.
Step-by-step methods to use rental properties to retire in 10-15 years
How to produce rental income to pay all your bills (and never run out)
A 5-step process to create your customized real estate early retirement plan
Detailed case studies of ordinary investors who used real estate to retire early
4 practical, easy-to-follow strategies—especially for brand new investors
Creative backup plans to stay flexible and help you sleep well at night
Standard economy shipping is always FREE, but you can upgrade if you'd like to receive your book faster. Shipping rates vary depending on location.
Purchases from the BiggerPockets Bookstore can only ship within the United States.
We're confident in the quality of our books. If you're not satisfied with your purchase, you can return your book for a full refund within 30 days.
For returns, refunds, or the status of your order, you can contact [email protected].
Customer Rating and Reviews
Retire Early with Real Estate
This book gets you excited about real-estate investing; anyone can do it! Will there be sacrifices, yes. Anything worth your time does. I'm sending it to my son-in-law who is discouraged with the 9-5 grind and doesn't see a way out.
5 STARS
Fantastic book! I got excited to wake up and read a chapter each morning! It's a great book and details multiple, simple ways to reach FI! Highly Recommended!
Retire Early with Real Estate
Great book
Great book with plenty of ideas for building wealth