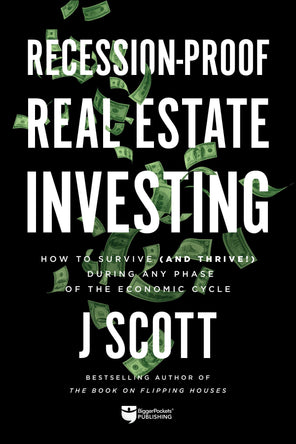 Recession-Proof Real Estate Investing
Prepare for a market shift by learning to modify your investing tactics—not only to survive an economic downturn, but to also thrive!
Every purchase comes with free bonus content:
Economic Downturn Guide—"Recession Prep 101: Investing in Real Estate During a Financial Crisis"
Three recorded Q&As with J Scott
FREE Basic Shipping
FREE Basic Shipping
Kindle compatible ebook files
One-click audiobook access
ULTIMATE Package = Physical book + Ebook + Audiobook
FREE Basic Shipping
FREE Exclusive Bonus Content
30-Day Satisfaction Guarantee
Choose your preferred format

Ultimate
Everything you need!
Paperback book with free basic shipping
Ebook version + One-click audiobook access

ALL free bonus content

Paperback
For the traditionalist
Paperback book with free basic shipping

ALL free bonus content

Ebook
For Kindle and other devices
Ebook version

ALL free bonus content

Audiobook
Connect to your favorite app and listen on the go!
One-click link to connect Apple Podcasts and other platforms

ALL free bonus content
The 2008 Great Recession was a time of economic turmoil and disruption, and many real estate investors lost everything they'd worked so hard to achieve. However, not every investor suffered that fate: Even during the worst parts of the downturn, some real estate professionals were able to grow and scale their businesses. Not only did they come out the other side unscathed, but they also created a better financial situation than ever before.
In Recession-Proof Real Estate Investing, accomplished investor J Scott dives into the theory of economic cycles and the real-world strategies for harnessing them to your advantage. With clear instructions for every type of investor, this easy-to-follow guide will show you how to make money during all of the market's twists and turns—whether during an economic recession or at any other point in the economic cycle. You'll never look at your real estate business the same way again!
How our economy works, and how to make it work for you
The four major phases of the economic cycle: Expansion, Peak, Recession, and Recovery
How to know when economic shifts are likely to occur and strategies to withstand those impending changes
The positive and negative impacts of each phase on different real estate investing strategies
How to continue profiting during every point in the economic cycle
Multiple ways to modify your investing tactics—not only to survive economic downturn, but to also thrive!
Standard economy shipping is always FREE, but you can upgrade if you'd like to receive your book faster. Shipping rates vary depending on location.
Purchases from the BiggerPockets Bookstore can only ship within the United States.
We're confident in the quality of our books. If you're not satisfied with your purchase, you can return your book for a full refund within 30 days.
For returns, refunds, or the status of your order, you can contact [email protected].
Customer Rating and Reviews
Every investor should read this book
Informative and I appreciated how the chapters were broken down by phases of the market and tips for not just recognizing them but how to invest in each phase to protect what you have built
So Much Great Info
I just got these books and have started reading, they are jam packed with good info. I would definitely be purchasing books through Bigger Pockets; I have bought several and you cannot go wrong.
A must in today's economic environment
I bought the audio version since I drive a lot. I now bought the physical book. It is a must in the library I have for my real estate studies. Love it!
Recession Proof Real Estate Investing
Exceptional read. Flew through it in a couple of days as I couldn't put it down. Inserts the REI topic expertly into a greater discussion on economic cycles in an easily digestible fashion.
Recession-Proof Real Estate Investing