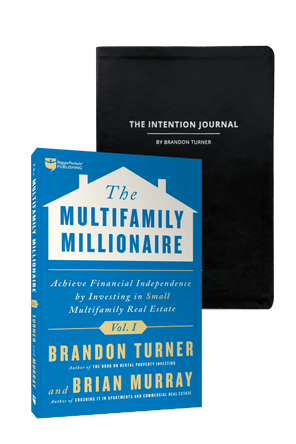 Multifamily Goals Bundle
Buy both and save!
Turn your multifamily goals into reality with Brandon Turner's Intention Journal plus his best-seller on small multifamily properties
Free Bonus Content includes:
Access to a personalized mastermind group with other motivated investors, right in your BiggerPockets inbox!
Effective Goal Setting for Real Estate Investors: A 7-part video series with Brandon Turner
Recorded 90-Minute Productivity Masterclass with Brandon Turner: Twice as Much in Half the Time
Two bonus chapters on multifamily investing
Four hours of exclusive video content with authors Brandon Turner & Brian Murray
FREE Basic Shipping
FREE Basic Shipping
Kindle compatible ebook files
One-click audiobook access
ULTIMATE Package = Physical book + Ebook + Audiobook
FREE Basic Shipping
FREE Exclusive Bonus Content
30-Day Satisfaction Guarantee
Choose your preferred format

Journal + Ultimate
Everything you need!
Paperback book + Journal with free basic shipping
Multifamily Millionaire Volume 1 ebook and audiobook downloads

ALL free bonus content

Journal + Paperback
For the traditionalist
Paperback book + Journal with free basic shipping

ALL free bonus content

Journal + Ebook
For Kindle and other devices
Two ebook downloads

ALL free bonus content

Audiobook
Audiobooks only available for purchase separately
Establish time for intentional planning and take back your day! The Intention Journal is a simple planner that offers an effective framework to achieve your goals in 90 days.  This will be your playbook to create the life that you always wanted—whether your goals involve health, finances, businesses, relationships, breaking bad habits, starting good ones, or anything else that needs real intention to grow. Get ready for the most powerful and intentional ninety days of your life!
The Multifamily Millionaire, Volume I
In this groundbreaking first volume of The Multifamily Millionaire series, experienced real estate investors Brandon Turner (longtime co-host of The BiggerPockets Podcast and author of The Book on Rental Property Investing) and Brian Murray (author of Crushing It in Apartments and Commercial Real Estate) share the exact, step-by-step blueprint you need to get started with small multifamily real estate. No matter how much cash or experience you currently have, this book will take you on a journey through buying your first multifamily investment property and give you a framework for turning that single investment into long-term financial freedom. 
Standard economy shipping is always FREE, but you can upgrade if you'd like to receive your book faster. Shipping rates vary depending on location.
Purchases from the BiggerPockets Bookstore can only ship within the United States.
We're confident in the quality of our books. If you're not satisfied with your purchase, you can return your book for a full refund within 30 days.
For returns, refunds, or the status of your order, you can contact [email protected].
Customer Rating and Reviews
Easy to understand!
The authors really break the concepts and teachings down to a level that someone who is brand new to investing can follow. The bonus material was also super helpful.
Really is worth it
It helps you stay consistent day in and day out and that is what will get you where you want to go. It's amazing how when consistent it doesn't feel like you're moving so fast toward your goals but then you look back and are amazed how far you've come.
Good overview of real estate investing
I bought both volumes in hard cover with the bonus content. The information is good, but I didn't find anything new or really unique to multi-family investing. If you're looking for secret sauce specific to multi-family, this book won't provide it. To be honest, it felt like Brandon took his previous book on real estate investing, mixed in the term "multi-family" a few times, and slapped a new cover on it.
With that said, the book is really easy to read, has a lot of good information about real estate investing, and is a good starting point for new investors. The bonus content is also very helpful and probably has more content specific to multi-family investing.