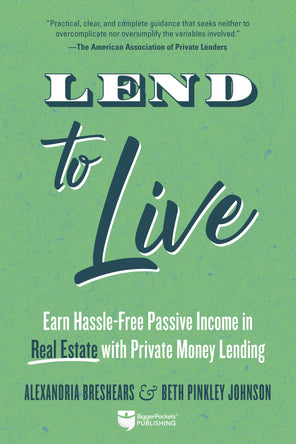 Authors
Lend to Live
Want to invest in real estate without the hassle? Learn how to create passive income in real estate as a private money lender.

Every purchase comes with free bonus content:
Advanced Risk Mitigation
A deep-dive video with the authors about mitigating common lending risks.
Attorney Questionnaire
A list of questions to use as an interview guide when trying to find a local attorney.
Processing Checklist
What documents to ask for from your borrower, when to ask for it, and why it's important.
Multiple Worksheets and Samples
Sample property criteria worksheet, rates and terms sheet for borrowers, schedule of real estate owned, non-owner occupied letter, wire instructions & checklist, and more!
FREE Basic Shipping
FREE Basic Shipping
Kindle compatible ebook files
One-click audiobook access
ULTIMATE Package = Physical book + Ebook + Audiobook
FREE Basic Shipping
FREE Exclusive Bonus Content
30-Day Satisfaction Guarantee
Choose your preferred format

Ultimate
Everything you need!
Paperback book with free basic shipping
Ebook version + One-click audiobook access

ALL free bonus content

Paperback
For the traditionalist
Paperback book with free basic shipping

ALL free bonus content

Ebook
For Kindle and other devices
Ebook version

ALL free bonus content

Audiobook
Connect to your favorite app and listen on the go!
One-click link to connect Apple Podcasts and other platforms

ALL free bonus content
"Authors Alex and Beth approach this nuanced vocation with practical, clear, and complete guidance that seeks neither to overcomplicate nor oversimplify the variables involved."
—The American Association of Private Lenders
Actively investing in real estate can sometimes seem impossible. Not everyone can spend all hours of the day dashing off to talk to motivated sellers, managing fix-and-flips, or screening tenants for rental properties. Instead, you can choose a different path by "being the bank" for other active real estate investors—a strategy that works with any lifestyle, builds toward financial goals, and gives you time back in your day. 
What used to be a trade secret for corporate lenders is now available to the average person, and Lend to Live makes the private lending path actionable and accessible for everyone. With more than two decades of experience in the mortgage lending space and real estate investing, Alex Breshears and Beth Johnson show you how to invest in real estate from anywhere in the world—all you need is an internet connection and a cell phone. 
Why private money lending has become a popular alternative investment strategy to create passive income
How to establish baseline lending criteria to match your investment goals and risk tolerance
Steps to take to secure your investments using the C.P.R. private lending method
How to build a private lending virtual team to provide end-to-end support
Key pieces of information to collect and the process of underwriting a loan opportunity
The risks and rewards of private lending as a passive real estate investment
Precautions and key considerations to help reduce your risk exposure
Tactics, tools, and tips to ensure your loan is safe from origination to final payoff
Standard economy shipping is always FREE, but you can upgrade if you'd like to receive your book faster. Shipping rates vary depending on location.
Purchases from the BiggerPockets Bookstore can only ship within the United States. Ebooks are available everywhere.
We're confident in the quality of our books. If you're not satisfied with your purchase, you can return your book for a full refund within 30 days.
For returns, refunds, or the status of your order, you can contact [email protected].
Customer Rating and Reviews
Best private lending book out there
Beth funded one of the best deals of my career and happened to tell me she wrote a book on private lending after the transaction closed, immediately bought it and read it. She did everything in the book to a T, highly professional and very impressed. So thankful I crossed paths with her as she has changed mine and my families life with the deals she is funding. I learned so much and would give this book 10 stars if I could
Great read for aspiring PM lenders + active investors alike
I picked up 'Lend to Live' after Cody Davis recommended it to me earlier this year. I was not disappointed with my time investment to learn what PM lenders look for & how I can set myself up for future successes when approaching lenders with potential deals.
Thank you Beth + Alex for taking the time & effort to write this wonderful book.
Not bad
The book was ok but left me with questions
Phenomenal book from extremely knowledgeable authors.
Real estate investing can often times seem very esoteric, hard to understand and like you are drinking from a fire hose when you are first getting started. That is not the case with this book. It is packed full of practical and instructional knowledge on an otherwise daunting topic. I have known and worked with Alex for a past few years and she has done an excellent job culminating personal and professional experience into this book. You will not find a better one-stop-shop for your Private Lending needs and I am excited to put the lessons and concepts into practice in my business and life.
FINALLY - A Book on Private Lending!
THIS is what you've been missing in the real estate industry. Everyone talks about no money down strategies, but they never talk about being the person who IS the private lender. It's a whole different learning curve and one that I'm loving, especially with this book! Alex and Beth really laid out the info with everything you need to become a bank. There are three whole chapters on underwriting which is super helpful for newbies.