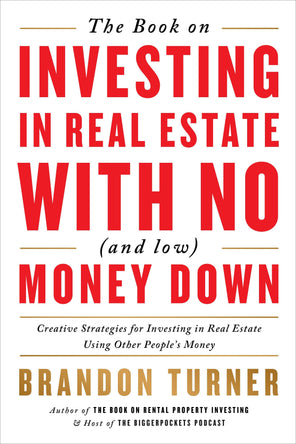 Investing in Real Estate with No (and Low) Money Down
Discover the creative real estate financing techniques that savvy investors are using to do more deals, more often.

Every purchase comes with free bonus content:
Free 50-page ebook by Brandon Turner
How to Find Incredible Real Estate Deals
2-hour no money down webinar
Detailing numerous types of NMD deals and an extensive Q&A
No money down multifamily webinar
Featuring Brian Murray and Ryan Murdock of Open Door Capital
7 video interviews with real estate experts
Featuring Chad Carson, J Scott, Ben Leybovich, Aaron Mazzrillo, and more!
99-step BRRRR checklist
From Brandon Turner and David Greene
Free Basic Shipping
Free Bonus Content
30-Day Guarantee
Choose your preferred format

Ultimate
Everything you need!
Paperback book with free basic shipping
Ebook version & Audiobook Download

ALL free bonus content

Paperback
For the traditionalist
Paperback book with free basic shipping

ALL free bonus content

Ebook
For Kindle and other devices
Ebook version

ALL free bonus content

Audiobook
Connect to your favorite app and listen on the go!
One-click link to connect on Apple Podcasts, Spotify, etc.

ALL free bonus content
More than 230,000 books sold!
Is your lack of cash holding you back from your real estate dreams? No matter how much money you have in your checking account, there is always real estate you can't afford. Don't let the contents of your wallet define your future! This book provides numerous strategies for leveraging other people's money for amazing returns on your initial investment.
Active real estate investor and co-host of The BiggerPockets Podcast, Brandon Turner, dives into multiple financing methods that professional investors use to tap into current real estate markets. Not only will you be able to navigate the world of creative real estate finance, but you'll get more mileage out of any real estate investment strategy.
Financing deals just got easier—learn how to be a smart investor by using creativity, not cash!
The truth about no-money-down investing―Investing with little to no money down is possible, but it's not about a step-by-step strategy. It's about a mindset.
How to get started investing in real estate―Looking for your first deal, but you have no money or experience? Learn the best strategies for getting your feet wet without paying thousands!
Numerous strategies to mix and match―Creative investing requires a creative mind.
How to attract private money, lenders, and partners―There are millions of millionaires walking the streets. Discover the best way to attract them to you.
The ugly side of creative investing―Learn the downsides to all the strategies mentioned in this book, as well as tips for overcoming those problems.
Strategies for wholesaling, flipping, rentals, and more―Find success no matter what niche you plan to use to build your real estate empire.
Standard economy shipping is always FREE, but you can upgrade if you'd like to receive your book faster. Shipping rates vary depending on location.
Purchases from the BiggerPockets Bookstore can only ship within the United States.
We're confident in the quality of our books. If you're not satisfied with your purchase, you can return your book for a full refund within 30 days.
For returns, refunds, or the status of your order, you can contact [email protected]
Customer Rating and Reviews
Raising Capital for Real Estate
Great Book! Very great story from Hunter Thompson, and very informative on steps to get into Real Estate.
Real Estate with No (and low) Money
I'm new to Real Estate, this here showed me different methods to buy Real Estate with no / low money down. It's sure expanded my knowledge, im a few steps closer to investing on my first property.
Investing in real estate with no and low money down
Great creative ideas, thought provoking and much useful information.
Flat for sale in electronic city
Mahendra Homes
Builders and Developers in electronic city phase 2 Bangalore
https://mahendrahomes.com/projects/mahendra-aarya-flats-electronic-city/
Fathom book
I did not receive the book in hard copy or digital. Please send, still waiting.