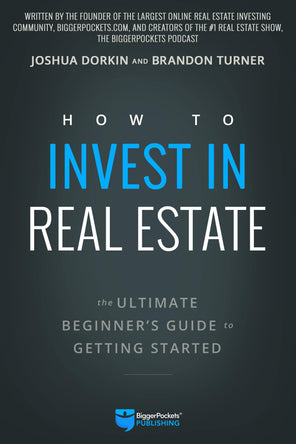 Authors

How to Invest in Real Estate
It's time to stop just thinking, talking, or dreaming about the future real estate investing can give you. It's time to start doing... And this book will show you exactly where to start!

Every purchase comes with free bonus content:
Real Estate Investor Checklists Package
Includes inspections checklists, loan documentation, questions to ask your agent, lender, property manager, and more!
Three Video Interviews with Real Estate Lenders
Interviews with a conventional lender, commerical lender, and hard money lender.
Exclusive Video: From Moron to Millionaire
Why you don't need to be a financial genius to be a successful real estate investor
Video Interview: Double Your Income Through Vacation Rentals
With Elizabeth Colegrove on the ins and outs of short-term rentals
Free Basic Shipping
Free Bonus Content
30-Day Guarantee
Choose your preferred format

Ultimate
Everything you need!
Paperback book with free basic shipping
Ebook version + One-click audiobook access

ALL free bonus content

Paperback
For the traditionalist
Paperback book with free basic shipping

ALL free bonus content

Ebook
For Kindle and other devices
Ebook version

ALL free bonus content

Audiobook
Connect to your favorite app and listen on the go!
One-click link to connect Apple Podcasts and other platforms

ALL free bonus content
"How to Invest in Real Estate will catapult you 5–10 years ahead of where you are now. The content-rich chapters and corresponding stories of real estate investors give you guidance from the top real estate pros. Read it!"
—Ryan Harris, Super Bowl 50 Champion and real estate investor
Everyone knows real estate investing can be a powerful way to build wealth and achieve true financial freedom—but because each person's journey is different, knowing the first steps to take can be challenging. That's why two of the biggest names in the real estate world teamed up to write the most comprehensive manual ever written on getting started in the lucrative business of real estate investing.
Josh Dorkin and Brandon Turner—longtime hosts of the world's #1 real estate podcast, The BiggerPockets Podcast—give you an insider's look at the many different niches and strategies that exist. Find which one works best for you, your resources, and your goals.
Unlike most traditional real estate books, this one won't tell you there is "one secret path" to real estate success. Instead, it dives into dozens of unique, life-changing quests and is packed with more than forty real-life stories of how real estate investors are finding success in today's economy.
How to invest in real estate while working a full-time job
The truth about LLCs and corporations
How to earn more at work (or on the side) so you can invest more
How to get your spouse on board with real estate investing
Eight unique property types you can invest in today
Eleven powerful strategies for building wealth through real estate
Twenty-eight tested methods for finding great real estate deals
Details on partnerships, BRRRR investing, and other creative ways to fund your deals
And so much more!
Standard economy shipping is always FREE, but you can upgrade if you'd like to receive your book faster. Shipping rates vary depending on location.
Purchases from the BiggerPockets Bookstore can only ship within the United States.
We're confident in the quality of our books. If you're not satisfied with your purchase, you can return your book for a full refund within 30 days.
For returns, refunds, or the status of your order, you can contact [email protected].
Customer Rating and Reviews
How to invest in real estate.
Highly recommended to any beginner.
How to Invest in Real Estate
A great overlook of the world of Real Estate Investing.
How to Invest in Real Estate
How to Invest in Real Estate