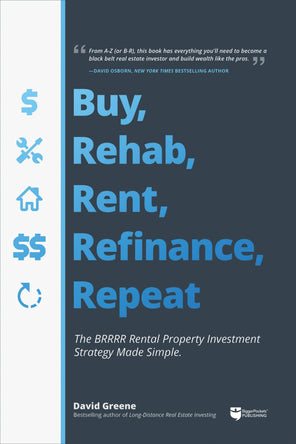 Buy, Rehab, Rent, Refinance, Repeat
More than 300,000 books sold! Invest in real estate and never run out of money using the BRRRR strategy.

Every purchase comes with free bonus content:
BRRRR Financing PowerPoint
A presentation template to use when finding private lenders
Bonus Ebook: Long-Distance BRRRR
An exclusive 20-page ebook by David Greene on how to BRRRR out-of-state properties
Q&A Author Webinar
Access to a recorded Q&A webinar with David Greene
99-step BRRRR checklist
From Brandon Turner and David Greene
Free Basic Shipping
Free Bonus Content
30-Day Guarantee
Choose your preferred format

Ultimate
Everything you need!
Paperback book with free basic shipping
Ebook version & audiobook download
ALL free bonus content

Paperback
For the traditionalist
Paperback book with free basic shipping

ALL free bonus content

Ebook
For Kindle and other devices
Ebook version

ALL free bonus content

Audiobook
Connect to your favorite app and listen on the go!
One-click link to connect on Apple Podcasts, Spotify, etc.

ALL free bonus content
"From A–Z (or B–R), David covers just what you'll need to execute like a master and build wealth like the pros."
—David Osborn, New York Times bestselling author
For years, investors have built wealth through real estate the hard way: slowly saving money and sacrificing their current happiness for a future reward. While this method produces results in the long run, what if there's a better, more efficient way that works in years instead of decades?
Buy, Rehab, Rent, Refinance, Repeat is the five-part BRRRR real estate investing strategy that makes financial freedom more attainable than ever: You buy a property under market value, add value with renovations, rent it out to tenants, complete a cash-out refinance, then use that money to do it all over again. In this book, author and investor David Greene shares the exact systems he used to scale his real estate business from buying two houses per year to buying two houses per month using BRRRR.
This easy-to-follow plan will grow your wealth quickly without letting a lack of cash get in the way of pulling it off. With the BRRRR method, you'll create wealth with real estate investment properties and BRRRR your way to financial independence!
A solid plan for getting started, even with limited capital
How to identify target properties locally and all over the country
Negotiation tactics for making offers that get accepted
How to recover 100% (or more) of your money in a deal
Unique ways to increase a property's value (and your own net worth)
The key to identifying emerging markets destined for huge growth
How to recruit top talent to work on your deals (so they build wealth for you!)
And so much more!
Standard economy shipping is always FREE, but you can upgrade if you'd like to receive your book faster. Shipping rates vary depending on location.
Purchases from the BiggerPockets Bookstore can only ship within the United States.
We're confident in the quality of our books. If you're not satisfied with your purchase, you can return your book for a full refund within 30 days.
For returns, refunds, or the status of your order, you can contact [email protected]
Customer Rating and Reviews
BRRRR
I'm really enjoying David Green's writing style. His approach to explaining each step if the BRRRR method, with stories numbers, definitions and best practices, has been very helpful in lessening the hesitancy of jumping in. Thanks David!
Great Book
Good read and easy to understand.
Buy, Rehab, Rent, Refinance, Repeat
Excellent book, written in a simple way for a newbie to understand.
Great Book that lays out a proven plan
Audio book lacking
I purchased BRRRR in audio and paperback, I wish there was a way to listen to the audiobook in an app. The only way I can listen to it is in drive and it won't stay at the place I ended it or automatically play the next chapter.