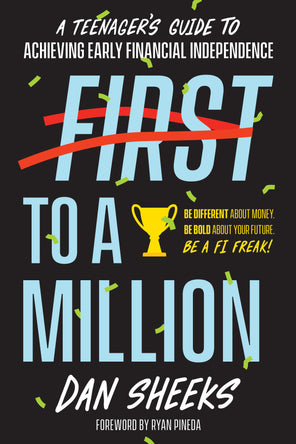 First to a Million
Change the way you look at money before you turn 20... and become a FI Freak!

Every purchase comes with free bonus content:
More Featured Freaks case studies
Learn how others reached FI or are on their way
Budgeting spreadsheet for teens
Printable pages from the First to a Million Workbook
Bonus 25-page ebook by Scott Trench
Six Steps to Eliminating Debt & Repairing Credit
Bonus chapter by Craig Curelop
How to Save for Your First House Hack
An exclusive coupon for 50% off The Simple StartUp Challenge
A program with the ChooseFI Foundation to start a business while in high school
Bonus video: The "Founder" of House Hacking
With Brandon Turner and Craig Curelop
FREE Basic Shipping
FREE Basic Shipping
Kindle compatible ebook files
One-click audiobook access
ULTIMATE Package = Physical book + Ebook + Audiobook
FREE Basic Shipping
FREE Exclusive Bonus Content
30-Day Satisfaction Guarantee
Choose your preferred format

Ultimate
Everything you need!
Paperback book with free basic shipping
Ebook version + One-click audiobook access
ALL free bonus content

Paperback
For the traditionalist
Paperback book with free basic shipping

ALL free bonus content

Ebook
For e-reader devices
Ebook version

ALL free bonus content

Audiobook
Connect to your favorite app and listen on the go!
One-click link to connect Apple Podcasts and other platforms

ALL free bonus content
"Dan Sheeks got this feedback from one of his high school students: "I just want someone to tell me what to do and keep it simple. What exactly should I do over the next couple of years, and when should I do it?" Dan's response is the wonderful book First To A Million."
—Brad Barrett, Co-host and co-founder of the ChooseFI Podcast
Most teenagers are told about only one financial path: Work until you're old and then retire. But what if you want to spend your adult life traveling, creating, or bettering the world instead of working all day, every day? 
Financial independence (FI) is the only way to win the resource you can't rewind: time. Time for yourself, time for your family and friends, and time for your dreams. Build the freedom to define your own future by building a strong financial base—which means saving more, spending less, and starting to invest as soon as possible. 
First to a Million
explores the many advantages of FI while explaining the secrets of investing, living frugally, and maintaining an entrepreneurial mindset. Treating your finances differently than the average teenager will put you miles ahead of your peers, and with time (and compounding) on your side, you can win the game before it even starts!
Why the typical American Dream pathway is not for everyone
How a FI Freak can take control of their financial future
The Four Mechanisms of Early FI (Spoiler: They're ridiculously simple!)
How to make more money as a teen with creative jobs and side hustles
How to be frugal and live richly with a life full of happiness and flexibility
The difference between income and wealth, real and false assets, and good and bad debt
Personal finance basics—like tracking income and expenses, building a credit score from the ground up, and calculating your net worth
Investing basics—like earning passive income, understanding the power of compound interest, and how index funds and real estate can build your wealth
Standard economy shipping is always FREE, but you can upgrade if you'd like to receive your book faster. Shipping rates vary depending on location.
Purchases from the BiggerPockets Bookstore can only ship within the United States.
We're confident in the quality of our books. If you're not satisfied with your purchase, you can return your book for a full refund within 30 days.
For returns, refunds, or the status of your order, you can contact [email protected].
Customer Rating and Reviews
Good book
I'm trying to get my son into financial
Independence. He's a little young at 10 but I'm reading it to him nonetheless. We'll revisit it and other books as he gets older.
This will be a gift for our grand kids.
Great book. Fast read, understandable, we are buying a copy of Robt Kyosoki's Rich Dad, Poor Dad to combine with this book, for each of our Grand Kids, with a note, read the "Dad" book first then First to a Million. Then go be first.
First Step in Achieving Early Financial Independence
As a teen on my path to financial independence, I feel confident that I can hand anyone this book and get them as excited for their future as me. As Dan states, I this book is not just about money. The First to a Million is a guideline that provides options contrary to the stereotypical American Dream. We learn about practices that can provide the freedom to spend spend our lives doing the things we enjoy and that are impactful!