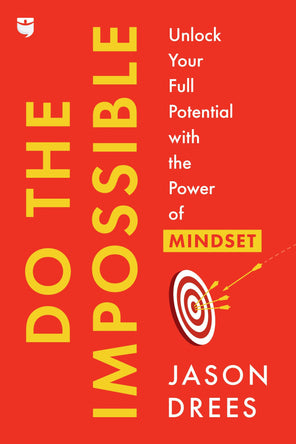 Do the Impossible
Life is just waiting to give you everything you deserve and desire—you just need to shift your mindset to achieve it.

Every purchase comes with free bonus content:
More than 8 hours of exclusive video content
with Jason Drees and Brandon Turner, including webinar replays on team building, productivity, deal analysis, lessons learned, Q&As, and more!
Poster printables
to keep the book's lessons within sight
Download of Alignment Exercises
A PDF of "Chapter 13: Getting into Alignment" for easy reference
Free Basic Shipping
Free Bonus Content
30-Day Guarantee
Choose your preferred format

Ultimate
Everything you need!
Hardcover book with free basic shipping
Ebook version + One-click audiobook access

ALL free bonus content

Paperback
For the traditionalist
Hardcover book with free basic shipping

ALL free bonus content

Ebook
For Kindle and other devices
Ebook version

ALL free bonus content

Audiobook
Connect to your favorite app and listen on the go!
One-click link to connect Apple Podcasts and other platforms

ALL free bonus content
"Do the Impossible suggests tools for maximizing one's potential... [and] is an enthusiastic guide to adopting positive future visions of oneself."
—Foreword Clarion review
Doing the impossible is not something you make happen; it's something you allow to happen. After conducting 10,000-plus personal and group coaching sessions over the last decade, Jason Drees has unlocked the simple yet effective formula to accept and create success in your life on the most basic, instinctive level. When you embrace success as a state of being and align with your targets, a life of abundance and unlimited potential is waiting for you!
After impacting thousands as a performance coach, Jason Drees turned to writing to give readers access to the same life-changing principles he provides in his personal coaching sessions. Learn from Brandon Turner's own coach, and start doing the impossible in your own life!
How to remove resistance and misalignment in order to live in your natural state of abundance and endless opportunity

The secret to living life like a "never-ending vacation" and enjoying every moment of the journey

How to overcome social conditioning and limiting beliefs that secretly block your success

Why ambitious goals require the same amount of "work" as conservative ones

How to leverage your emotions as indicators for success and growth opportunities

How to recognize and follow your unique path

The secrets to playing life at a higher level by embracing success as a state of being through "framing"
Standard economy shipping is always FREE, but you can upgrade if you'd like to receive your book faster. Shipping rates vary depending on location.
Purchases from the BiggerPockets Bookstore can only ship within the United States.
We're confident in the quality of our books. If you're not satisfied with your purchase, you can return your book for a full refund within 30 days.
For returns, refunds, or the status of your order, you can contact [email protected].
Customer Rating and Reviews
Do the Impossible
I really enjoyed it. I helped me to change the way I affront things in my life.
I never received the book
This book will allow you to comfortably take you first step.
This should be the book where you start your journey. It can be applied to anything and everything that you chooses to do. In order to overcome the obstacles life throws at us we need to be mentally strong and this is where this book excels. Highly recommend you will not be disappointed.
Incredible frame shifting
I have thoroughly enjoyed this book and recommend it to pretty much anyone and everyone
Great read!
Jason does a great job of sharing and helping people implement his frame-shifting approach to personal development in this book. I highly recommend reading it if you're ready to make massive changes in your life.