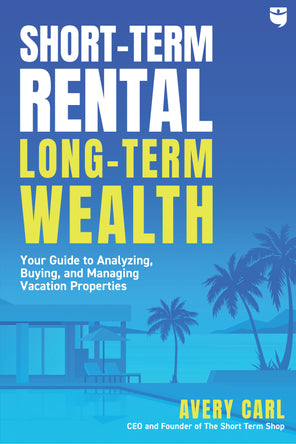 Short-Term Rental, Long-Term Wealth
From analyzing potential properties to effectively managing your listings, this book is your one-stop resource for making a profit with short-term rentals.

Every purchase comes with free bonus content:
Short-Term Rental Taxes Q&A
Interview with Amanda Han of Keystone CPA that answers the most common STR tax questions
How to fully stock your STR property
Multiple lists of supplies, softwares, and tools to help your short-term rental business run smoothly
Rental arbitrage bonus chapter
Is this strategy right for you?
FREE Basic Shipping
FREE Basic Shipping
Kindle compatible ebook files
One-click audiobook access
ULTIMATE Package = Physical book + Ebook + Audiobook
FREE Basic Shipping
FREE Exclusive Bonus Content
30-Day Satisfaction Guarantee
Choose your preferred format

Ultimate
Everything you need!
Paperback book with free basic shipping
Ebook version + One-click audiobook access

ALL free bonus content

Paperback
For the traditionalist
Paperback book with free basic shipping

ALL free bonus content

Ebook
For Kindle and other devices
Ebook version

ALL free bonus content

Audiobook
Connect to your favorite app and listen on the go!
One-click link to connect Apple Podcasts and other platforms

ALL free bonus content
Airbnb, Vrbo, and other listing services have become massively popular in recent years—why not tap into the gold mine? Whether you're new to real estate investing or you want to add a new strategy to your growing portfolio, vacation rentals can be an extremely lucrative way to add an extra income stream—but only if you acquire and manage your properties correctly.
Traditional rental properties are a great way to create wealth, but short-term rentals can bring in five times more cash flow than long-term rentals. Avery Carl, the CEO and founder of The Short Term Shop, will show you how to choose, acquire, and manage a short-term rental from anywhere in the country, plus how to avoid common pitfalls and overcome obstacles that keep many would-be investors from ever getting started!
Identify the best markets for short-term-rental investing
Analyze the potential income and profitability of a short-term-rental property
Self-manage a short-term rental right from your smartphone
Build a local boots-on-the-ground team for an out-of-state investment
Automate your self-management systems
Use the income from short-term rentals to scale your investment portfolio
Standard economy shipping is always FREE, but you can upgrade if you'd like to receive your book faster. Shipping rates vary depending on location.
Purchases from the BiggerPockets Bookstore can only ship within the United States.
We're confident in the quality of our books. If you're not satisfied with your purchase, you can return your book for a full refund within 30 days.
For returns, refunds, or the status of your order, you can contact [email protected].
Customer Rating and Reviews
Short-Term Rental, Long-Term Wealth
This book is amazing. I learned a lot and it helped convince my wife to get into STR.
Short Term Rental, Long Term Wealth
Avery makes understanding STR's so simple. She really breaks down the process and makes investing for rookies not feel so impossible. Thank you Avery!!
Short-Term Rental, Long-Term Wealth
Really a book for beginners
I really wanted to like this book, but on balance I
Good instructions. It would be better if we have more details on how to furnish and run income deals